LR: Stripper Threesome
By Manwhore
June 11, 2009
I wasn't planning on writing this up but a buddy spilled the beans on my recent stripper threesome so I'll break down all the details on how it went down. I'll start off with how I fucked the first girl the night I met her working at the strip club and then segue into the threesome with her and her friend. I'll make a few points about how I "work it" at a strip club.
=======) – — –
I'm at the strip club a few weeks ago with some buddies. It's important to not be sitting on your ass the whole time- looking like a nervous chode nerd. First off you look like a customer, second if you can't find a way to have fun at a strip club and can only manage to sit on your ass the whole time; you're not a guy who has sex with strippers. They'll know this instinctively. Done
I was up and around, talking to random girls, playing pool quite a bit. At one point I walk back to my buddies and they all have girls in their laps. I stand there a couple feet off and dance like a stripper for a bit using my pool stick.. this causes every girl in the area to go into a frenzy. I have NO idea why.. it's like a glitch in the Matrix. In fact girls from afar were watching and laughing. I've read on different forums for strippers that they can be pretty intimidated approaching a group of guys at a strip club, it's why it's important to seem friendly and having fun.
So I'm wanting to play pool and remember which one wanted to play. Problem is he's got a girl in his lap. So I walk up..
Do you know what the opposite of cockbocking is? She can't hear and I repeat it. She looks at me cute and expectantly. "Cuntpunting".. and drag my buddy away. She's kind of mad but it's funny and showed her the guys were in charge. My communication style is also something I highly developed, check it out here at how to talk to girls.
Most of what happens that is considered good game can be classified as simply being out of your head and having fun. You can refer to a simple guideline at times to make sure you're on the correct track to the bedroom- or.. as you get more experience being intimate with girls, you develop a certain awareness of which dots have not been connected from start to "thrust"; and flex your "game" accordingly. I think there are a lot of guys who are pretty good with girls, but who don't cover their fundamentals well enough and end up not fucking the girl because they screwed up a part of the process they needed to nail down better.
Anyways, playing pool is good. It shows guys in their element in the midst of female chaos- or I just like shooting pool and want to make sure all ya'll play pool too ;P. But we're on a mission (playing pool)- while they dance around- as men should be. They like to watch us be unaffected by them; doing our thing. They like to distract us as we shoot, and watch us not get phased.
One girl starts softly cupping my balls as I take a shot "I like to help them out- the pool players.." in a cute tone of voice. If you walk around looking like you're doing your own thing not paying attention to the girls- just being a dude.. you'll get a lot more opens like this from the dancers. Another girl walks thru- says from afar "don't worry you'll mess up". Didn't effect me but the stick actually did slip, so in some strange way I could tell she felt she'd "won". And though if most had witnessed this they would have thought the girl was a hardcore bitch- she wasn't.. she was simply used to her effect on guys. but she didn't want to "win".
A lot of guys prescribe to the "smile at every girl" rule. I tell guys to smile just as much as the next dude- however if you're coming from a bad ass, alpha frame, you're just not going to smile at every girl simply because you walk into her line of vision. However I do happen to walk around with an idiot grin on my face from time to time.. and this gets me opened more than anything else period.
Subsequently a quick rule: I am not cool with every stripper. There is an unspoken totem pole. Some of the girls (strippers) act very low value and annoying. And if you act "beholden" to it simply because they're "a hot chick", it lowers your value because you look like a chump when clearly they're just vampires tossing out shit game to see who they can con or coerce into their clutches. As the "coolest" guy in the room I know what it is and I don't treat the strippers as equals. This gets communicated about me. Basically the women know they have to "respect" me. I'm pre-opening every single girl in the place.
A girl walks up to me asking if I want a dance, I basically ignore her and send her on her way. My bitch shield is well over 9000.
I gave girls I liked watching dance a buck or two. If I really liked a girl I sat down at the stage and gave her a few. I never made a big deal of giving a girl the money- never "put it in her thong". Buddy talked to me about girls coming by and he hadn't seen them so he wasn't giving them dollars. The girl sitting with him began freaking out- obviously he wasn't setting the right frame, as the girl was more worried about what the girls were thinking, than him. Told him to remember, he'd spoken; his word was law. He needed to be in charge of that situation. All this being said, sometimes the best thing to do is to simply sit somewhat out of the way of the main stage and not tip at all. If you're worried about where exactly this is so you don't have to tip, you're not in the right headspace. You should not be looking for an excuse to not give the girls money. You should just be that guy. And what the fuck.. you're going to give a girl money for rubbing her body on you, strutting on a stage, or staring expectantly at you? How fucking dumb is that. Why don't they pay me money to rub my body on them?
Next up I see a super hot girl sitting by herself with a scowl on her face. I say something to her and she lights up like a glowbug. She must have already decided I was the shit. She wouldn't keep her hands off me it was ridiculous.
A new blondie comes by to try her luck with me- I tell her "so are you going to sit in my lap or WHAT!"
She tries to guess my sign. I tell her either she's going to get it in the first two tries or it's going to be her last guess. i.e the only remaining sign. She's one of the latter as she keeps guessing until it's the last sign left. She asks me if I want a dance.
No. I can't go back there. I will not keep my hands to myself. It will not work.
Anyways I start bullshitting with her. This is where the bulk of my "work" got done ; b. I tell her about women raising boys and not knowing how to do it. Apparently I gave off a vibe that made her salute me when she talked to me. At one point after having her sit in my lap for awhile, I anchored the interaction by squeezing her and pulling her in. A lot of guys out there say don't touch the strippers. My advice would be to not touch them automatically, as soon as they're within reach like you were just waiting for an opportunity, and to not be needy or grope them. But at a certain point you obviously need to demonstrate some sexual prowess and dominance. Prize your physicalness.
She goes off to do her thing. Later on I see her while playing pool and say something to her from several feet away. It has the desired effect as we start talking again and she gets involved with my game. I stay where I am, maintaining my pool game while talking to her.
She comes out later in her street clothes. I walk up acting super discrete. I bring up a late night rendezvous by telling her I'm going to come to her house and burglarize her. She doesn't hear so I repeat it, then add that I'm going to burglarize her all night long, again, and again.. you get the idea. She seemed interested lol. I ask her where she's located- come to find out it's pretty close to my area. I humhaw around some more then tell her I want her number.
I cut into her space as I ask, yet let my attention slightly wander off. It's a way of being demanding without appearing too needy. She casually whispers her phone number and I memorize it. She takes off and I start texting her. The texting was to be honest pure genius and she confirmed to me later she had NO thoughts of fucking me that night till we started texting. Not something I'm going to into here- I'll be covering it at the 21 Convention in Orlando this summer.
=======) – — –
She shows up at the AM/PM next to my place. It's been a semi-ordeal meeting up and she's frustrated at this point. I get in the car with her, to anchor strong positive dominant emotions to the fact that: she's showed up, we've seen each other, and she's got to deal with what I think about the fact that she showed up. It is my role to make her feel good and carefree about it. I jump in the car and pull her in for a quick teasing kiss. Even now I won't give her everything.
I take her back inside my place. It gets super hot quick because I don't fuck around. Her body is just so good what can I say. Fuck. I made her strip for me while giving me a lapdance, after about a minute I take my cock out then slowly push her down onto her knees and stick it right in her mouth.
I take her into my room and undress her. She says the hottest thing as I lay her back on my bed. Naked as the day she was born. Looking down over her body, she looks up at me "This is funny- I look over and see a guy playing pool, and next thing I know.. we're about to have sex". She makes a cute face while saying it. I stalk towards her, grab her legs then spread them and push them farther apart on the bed then grab her hips and pull her in towards me. I tell her "I'm going to enter you". Her eyes widen, she starts to fuss as she makes a show of not being sure all of a sudden, it makes it even hotter, and I slide inside her. She gasps and shudders, her whole body quivering as the sensation of me entering her washes over her entire body.

I bang her for a little while, then tell her I'm going to film. She's hesitant but knows I'm going to do it anyways. I bust it out and she asks if it's going to be on Youtube. I pssh her and tell her hell no.
She stands on my feet (real cute) as I have her bend over my bed. At one point she backs up into me hard to test my frame, I lift her weight up to diffuse the force. Otherwise she would have pushed me back and I'd have lost my footing.
She leaves after we fuck a couple times.
After she leaves I send her a text or two to frame what just happened in her mind and set it up for future hotness
Blah blah
Beb I keep stuff like this on the dl- just how I am. And by "this" I mean our sexy lil tryst ; P
Like it!!! Have a good night. Just got to bed. Thanks for the Tryst
The next morning some sexual amping:
See you needed to be here when I woke up. For some hot morning tussle
I see you liked the goods.

Yes. We'll take longer next time
And wont be as tired. If tho it was very good
(Couple hrs later)
Can I wrap my legs around your neck. LOL
You sure can. If you make me a sandwich first
What kind
Different meat in it. Mustard n mayo. No lettuce, light onion and tomato (Always be specific and come across decisive. Don't say something like "You choose baby!" That's for tools)
What kind of meat. Sea bass. LOL
Tell you what Ill put my cock on some bread and you can eat it instead
Nice. I'm at Dreamgirls. Drinking having a good time.
Workin online. Google pays me to bitchslap em
You slap so well. Smack your bitch up
I like to. Like your hotness rubbing up against me begging to be spanked and squeezed as I penetrate deeper
Deeper and deeper. Harder. Harder (Girls are so gay. What kind of kindergarten sexting is this lol)
Your hips are perfect for placing my hands
Ok. I'm horny and at work. You're driving me crazy!!!
I'm just sayin. I want you underneath me surrendered to my cock again
I want to be on top
I want to see you on top of me. luscious
Tell me when. It could be on the menu
She comes over maybe once a week to get nailed. I begin framing a threesome with her. She's not receptive to it at all- apparently she doesn't "experiment" with her friends. Whatever. I tell her it's going down anyways. Some guys like jeffy like to frame threesomes as being for the girl. I'm completely the opposite. I tell them it's going to be all about me.
She replies It's always about you. LOL ; )
My reply: That's what makes it work
Couple weeks later my buddy is visiting and she happens to come over. Some naughty things go down in the living room while Travis is trying to watch a movie (The Grudge). I want to make the point this girl's not an exhibitionist. Quite simply I just do whatever I want and she's into it.
I send her a text a day or two later. I get boners during the day and want to find a hottie to stick it in.
Babe would you come here
I wrking at cheetahs
damn
Come see me. Shoot some pool
(couple minutes later) I like balls you know
theyretasty
I have these shoes on that I want to fuck in. There fuckin hot
Do you want to be bent over in them. Or I grab you by your ankles and spread your legs while you're on your back and I fuck you deep
Absolutely!!!!
(half hour later)
Is your friend still in town. I have a friend that wants to have sex
I'm sitting there talking to my buddy when I get his text. My first thought is cool I get to hook up Travis. My second thought is not so nice.
Fuck that. You're both going in my bed. Ya he's here
What time.
When you're both off and showered (Introducing some standards)
Well be there.
Let me know when
We will be there in about an hour.
Fun. Bring toys
Hour later I sent a "logistics" text. To smooth out the sexual tension (remember I only want them to show up, I don't need to amp them up sexually over text and possibly scare the little bunnies off)
I have a bottle of wine here you might want more
Not only is this presupposing they're on their way over, it's also a non needy way of getting an idea of what's going on, on their end, and also displaying a solid emotional baseline. I'm not some perv waiting outside with my dick and a hatchet. Very important
I call her up and talk to her. Everything's proceeding on schedule. I try to figure out which girl she's bringing as I've been to this club several times and I figure I've seen most of the girls. She describes someone.
I come out to the landing as they're walking up the stairs. A little bit on my current mentality at this point. I do NOT care. I don't care if it completely fucks up, I don't care if they run away, I don't care if they start clucking in my living room like chickens. No outcome dependence. Therefore I'm relaxed and simply having fun. Important.
The other girl is an inch or two taller than me, big boobies and.. a stripper. Lol you can just tell. She searches my face for a reaction as she comes up to shake my hand. She's getting a feeling for how everything's going to work out. I pull her in for a light kiss on the cheek then turn to grab girlie and give her a hot smooch.
They come inside and we all grab a shot of Jack D'z. I've told my buddy beforehand to let me handle shit with the second girl as I don't want him opening his mouth and accidentally making her fall in love with him. I'm trying to make a threesome happen here lol. Apparently he's not feeling especially chipper anyways as he's got some kind of mild stomach shit going on. Obviously the rat poison I gave him beforehand worked ; b
It was obvious throughout the whole mix that the girls had "talked" beforehand. Apparently the second girl wasn't supposed to hook up with me, she was there for my buddy. Suuuure. I don't remember all the details exactly but we're hanging out in my living room just talking, mixed in with BLATANT sexual shit. Like I'm about to leave the room, but no, first I must bite the nipple of the new girl through her shirt. Was there ANY real context for this? Yes of course.. its me being me. She remarks as I head out "Wow you got me right on the money!" Travis.. "well ya they're poking out of your shirt". .. we all gaze at her hard nipples
Anyways, I'm just a sexual dude when I want to be. I assume it. I don't question shit. I set the mood, the frame, the social interaction. Obviously Travis is not a spectator either. I start pulling girls' clothes off, I make girlie give me head while the other girl watches. I tell her she can watch as I fuck her later which totally turns her on. Titties come out. Then panties come off. I've got two strippers with their panties pulled down on my couch. I pull them close together and kiss both of them on their kitties.
I'm not about to go down on a stripper. Wonderful girls for sure, and as a guy it's our job to inspire ANY girl to good behavior. But really it's just dumb to go down on a girl in the sex industry. Enough said
Anyways the new girl starts going down on the other. Because of course.. girls just eat each other out in my living room. Then she flips over and the other starts kinda sniffin' around down there. I use this as an opportunity to "get to know" the new girl. I start rubbing her breasts, licking them, licking her neck, kissing her, slightly moving her upper body as I grab her for more fun. She's into it. I whip out my cock and shove it in her face. She starts sucking on it. SCORE.
I want to make a big point here. I made sure that the first girl felt like she was the most important. I'd pay attention to the new girl but always go back to the original girl. You have to handle her emotions. The second girl is there to be a toy and she knows this. Don't let it be anything else that will fuck it up.
I'm going to talk about leading real quick. Two main issues going on here. Probably the most important is the second girl was quite a headstrong dominant chick. She couldn't be "forced" to do shit. She had to be inspired to do it. As a leader and a bad ass man you have to understand that the "traditional" way of looking at leading, as being a dominant "I'm in charge no questions asked" boss, will simply not work in a lot of situations. As a leader you must inspire people to lead themselves. Be able to guide it in the right direction.
Anytime I got too direct with the new girl she'd dig her heels in the sand. "Whoa no I need to be warmed up" or a blatant "I'm not going to have sex with you."
What I did was suggest certain things, and then set the stage for those things to happen. At one point I'm laid back on one of my couches and simply say "Ya I want you two girls both on my cock.." That's it. Then set the stage. If you try to demand it and the girls just aren't in that headspace, you're going to fuck it up.
So we're just hanging out again. In the nude. And the new girl just starts rolling around on the ground horny, grabbing the other girl. I stand up between the two and whip it out. The second girl grabs it and announces "Let's just suck his cock together", as she proceeds to slide it in and out of her mouth. This is exactly what I'd stated aloud earlier, I'd simply planted the seed, and let things play out. The original girl comes in and gets down low to get in on it also. The new girl is very dominant about sucking my cock, the other is very soft and sweet about being the second girl pleasing me orally. Quite a luscious dichotomy.
They start grabbing my cock and sucking on it, sometimes both, sometimes one licking my balls. Now I've been in some threesomes before.. but this was fucking hot. (Hold up I'm going to do some ab exercises real quick I need a distraction.)
I start trying to signal to Travis to take a pic. He's looking at me kinda haphazardly, as he's simply trying to not look at my cock while attempting to figure out what I'm trying to tell him. Wasted effort as later I just start walking around wearing nothing but sneakers on and a condom. Shoes for traction!
My female roommate starts walking out of her room as these two girls are playing Battle Toads with my cock. I tell her to hold up and she quickly backs up into her room and shuts the door. Seems harsh but truthfully I believe girls are cool with a bad ass dude handling business with girls in the living room.
Anyways I grab original girlie and pull her into my bedroom to penetrate her. After 5 minutes the other girl comes in as she's stated all along she wants to watch me fuck her. She's in her panties and bra at this point.. she's put on some clothes again as she was prone to do (I was dealing with resistance the whole time). The second girl notices I'm still wearing my white sneakers and makes a sarcastic comment. The first girl agrees telling her she'd told me to take them off. All of a sudden it's a baby birds nest and I got two pigeons screaming up at me. I don't even bother explaining the physics of sneakers on carpet versus barefeet on carpet, I just shove it in the first girl. The other gets turned on and asks if she can lick her pussy while I fuck her. I um.. agree lol. Anyways she gets down there while I run it in and out and I grab the back of her neck, clamping down to hold everything together as I slam the whole hot sloppy mess going on. I'm sure she liked having her head held down.
I reach to go inside her panties from behind and she balks at it, insisting I won't be having sex with her. This is a full-on refusal but I don't even address it. I go back to what I was already doing. She's simply not ready. I keep pounding the one girl's pussy while holding the other girl's face planted in place. Then I start firmly sliding my hand over the second girl's body, over her back, over her hips, sliding down her legs and then finally reaching down underneath and between, grabbing her and pulling her up as I firmly slid my hands over her body. This was a way of displaying masculine sexual dominance over her body without evoking her conscious logical responses. This bypasses her logical wiring while escalating her physically and getting her hot. She all of a sudden spouts out a line of gibberish. Literally a bunch of words that don't make any sense together. I just keep what I'm doing and then boom, all of a sudden it gets translated in my mind.
"You can stick it in me now". It was like onlinetranslator.com came on in my brain and I hear the translation. Fuck. It's time. I pull out of the first girl, rip down the panties of the other girl, and just stick it right in as she's going down on the other girl. Hot. Original girl looks at me, I know she didn't want this to happen on some level, but as I'm leading what's going on I dictate how things will go. I understand her feelings on this, I'm simply going to redirect shit to keep her feelings and investment in me intact.
After a couple minutes I pull out. The second girl looks up at the other and says "Ok that wasn't fair". ; ) Fuck ya I wasn't. That was the second girl's way of excusing herself to the original girl and placing the blame on me. Give it to me I will take ALL the blame 😉
Anyways I keep pounding the original girl as the other leaves the room. I proceed to give her a couple mind-blowing orgasms as I'm prone to do. I then walk outside to spy on Travis and the other girl. I walk around the corner and I swear to gawd my buddy is looking right at me. After about 3 seconds he throws his head back and starts groaning and I swear this is 'cuz he knows I'm there, to fuck with me. But no. Girlie starts choking and gasping and apparently I've walked around the corner just as Travis begins taking domeshots. Timing is everything Mr 10 Second Man.
I want to mention that the entire time the girl was trying to get invested in my buddy as she was there for him. She even tried to make it seem later that she'd never sucked my cock even though he watched her do it, or that I'd fucked her. Girls are weird just play along and handle battlefield logistics.
Afterwards we all head out to a bar. We play pool and try to pretend to all the other poor bastards at the bar that we weren't all just in a fucking orgy in my living room.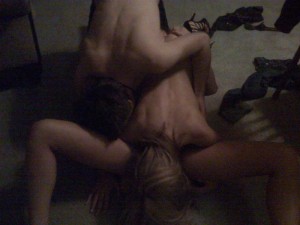 Here is a link to an interview I did with two Las Vegas strippers:
http://manwhore.org/manwhore-interviews-vegas-strippers/
how to date a stripper
|
how to fuck a stripper
|
pua text game
|
stripper threesome