Real Sexting Conversations
By Manwhore
October 25, 2013
Me – 3 mins later: Gawdamn you're hot. When are you coming up here to visit me again
Me: I'm going to tear you up
Me – 12 mins later: But nice pic. Color run? I almost went
Girl – 33 mins later: Hey don't make promises u can't keep cuz I'll hold you to it silly boy. Yeah color run was this morning
Me – 1 hr 27 mins later: Girl I'll be the one holding you to things.. like my kitchen counter. My bed. Maybe even a wall or two
Girl – 1 min later: Send me a pic tho.. Show me whacha workin with
Girl – 4 mins later: Okay dead mouse lol!!! (sent pic wearing Deadmau5 mask)
Girl – 1 min later: Rawrr… Yummy but I want more
Me – 2 mins later: now show me your fucking body right now I want it
(Rest of sexting conversation is below)
This was a girl I met outside of XS nightclub in Las Vegas. She was gorgeous, green strapless dress over huge boobs with a beautiful smile. I should have taken her home on the spot but had to go find my buddies so got her number and made plans to come back and see her. It didn't work out but at least you guys have real sexting conversations to read 😉
When I saw her I marched right up to her I don't even remember what I said, but I was super jovial & having fun. She was immediately receptive our energy was a natural match. She came onto me pretty hard and quick, within twenty seconds asking me why we weren't leaving together already lol. This made me think she might be a "pro" so I kinda hesitated. Idiot move! Should have whisked her out of there on the spot and been "wrong" later, lol. Instead I took her number and told her I'd be back after I found a buddy I was looking for. Come to find out she's a registered nurse in So Cal. Really regretted this one!
Anyway I start texting her & demonstrate how to start sexting in the ensuing text conversation with her below. It's important to note that I am not just complimentary, I'm also very much in the moment with her, talking about my day in funny & exciting ways, being sensual with her and ACTING like her aesthetic beauty is having an effect on me. This is KEY! Too many guys are clueless about this stuff and just think being complimentary will get them somewhere with women. If that's ALL you do it will actually make you lose major points with 85% of women. They'll dismiss you as just another average frustrated chode.
Want To Become AMAZING With Women? 
Train LIVE With Manwhore.org From Your Own Home! (click here for more information)
How to Start Sexting
The first text is the one I sent myself from her phone so I'd have her number lol. It was a GREAT move though, as when she saw the strange number pop up there was already a text conversation started with the first message being from "her" telling me I'm sexy ;). Good move! The text convo starts out a bit slow, as sometimes it does between relative strangers, so I have to warm her up and develop the conversation to a point to where we can start flirting and getting more overt with each other. The way I do this is important to understand too! So pay attention if you want to be able to repeat this yourself.
Girl: Jon is sexy 
Me – 1 min later: ________ is sexy too 😉
Me – 3 hrs 56 mins later: What's going on gorgeous we're headed to a lil get together
Me – 20 hrs 32 mins later: Hi ms nurse
Me – 17 hrs 43 mins later: Watching the chargers game. Come be a party of the carnage. Orale!
Girl: Huh who is this
Me – 3 mins later: What's up pumpkin. I'm headed out to watch the game come meet up. I was sexy boy outside of xs the other night I should have just stolen you that night!
Girl – 1 min later: I was so drunk I don't remember much. Send me a picture
Girl: I even goty phone stolen 🙁
Girl: Got my*
Me – 5 mins later: Aw lol 
Girl – 2 mins later: Oh that's right I remember u now!!! Dang u never came back (I sent her a picture of me and Jlaix w/ beers on our heads lol)
Me – 3 mins later: I did actually just never saw you boo
Girl: Aww that sucks…
Me: Well come see me
Girl: San Diego? Hmm
Me: Yeah I'm not actually going to San Diego LOL
Girl – 1 min later: Oh do u live in L.V?
Me: Yeah my place is on eastern and flamingo
Girl: I see..
Me: I'm headed to a pt's right now. Where you at hon? (As you can see before I even think about how to start sexting, I figure out if we can meet up first ;))
Girl: I might be moving out there soon just gonna see if I can get a job first
Me: It's a good spot, it's just cold season now. Where you from
Girl: Know of any nursing jobs out there by any chance?
Girl: I'm in California now
Me – 1 min later: I think there's some demand out here actually. I know the medical industry in general does good out here
Girl – 1 min later: We'll u have fun watching the game. I'm meeting the girls for a gym session 🙂 let's keep in touch though
Girl: Well*
Me – 2 mins later: Ok gorgeous. What part of cali are you in?
Girl – 11 mins later: Santa Paula, close to L.A
Me – 2 mins later: What? A girl saint..? That's not right. 😉
Girl: Lol funny huh?
Me – 4 mins later: She sounds like she makes beer
Girl – 2 mins later: Wow never again lol!!!!
Girl: Oops that was for Julie sorry
Me – 2 mins later: What you getting belligerent at xs? Lol wish I'd been there to take advantage of you! :p
Girl – 1 min later: Nope belligerent after xs lol
Girl – 7 mins later: What's your name again?
Me – 4 mins later: Jonathan. And you're _____. Or however that's spelled lol
Girl – 6 mins later: That's right
Girl: Bought to start spin class… Ttyl :*
Girl: About*
Me – 5 mins later: Lol.. spin class
Me – 56 mins later: How was spin class boo. I can't imagine that you're even more sexy now
Me – 3 days 4 hrs later: Hey punkin. Think I saw you on cartoon network?
Girl – 9 hrs 18 mins later: Cartoon Network? How so? Lol!
Me – 5 hrs 9 mins later: Hm I'll see if I can find a picture
Girl – 13 mins later: Okay
(I send picture of Rainbow Brite)
Girl – 1 hr later: Haha… That's my twin!!! How did u know:)
Me – 9 mins later: I could just tell you liked to dress up and ride ponies. Am I good or what
Girl – 22 hrs 30 mins later: See told u it was my twin (So this is where my mind gets boggled.. I'm having a conversation with another girl during this time from off Facebook.. and then I get this message, thinking it's the FB girl -because I randomly get this 22 hours later-.. who looks more like the girl on the right in the pic, but who isn't anywhere NEAR as attractive to me as the girl on the left, which was disappointing lol. But then I scroll up into the convo and get confused by what I'm reading because I knew there was something wrong with the convo I was reading. Then I realized it was the OTHER girl and I flipped my shit 'cuz gawdamn that meant she was the girl on the left and that little biscuit was FINE. So at that point I pretty much just went with communicating pure lust 'cuz it was genuine lol.) None of this matters that much, but I wanted to give you guys a peek into exactly what was going on in my head.
Girl: Lol
Me – 3 mins later: Gawdamn you're hot. When are you coming up here to visit me again
Me: I'm going to tear you up (lol. Sexual aggressiveness is a HUGE turn on for girls.)
Me – 12 mins later: But nice pic. Color run? I almost went (I figured I'd try to be normal too LOL)
Girl – 33 mins later: Hey don't make promises u can't keep cuz I'll hold you to it silly boy. Yeah color run was this morning (Phew)
Me – 1 hr 27 mins later: Girl I'll be the one holding you to things.. like my kitchen counter. My bed. Maybe even a wall or two (but no time to relent.. keep things going and have fun!)
Girl – 1 min later: Send me a pic tho.. Show me whacha workin with
Girl – 4 mins later: Okay dead mouse lol!!! (sent pic wearing Deadmau5 mask)
Girl – 1 min later: Rawrr… Yummy but I want more
Me – 2 mins later: now show me your fucking body right now I want it
Me: You want to see my dick don't you. You want to taste it
Girl – 1 min later: I'm with family right now… Damn or else I would
Girl: But yeah u do (think she meant i here)
Me: You already have some in your phone I'm sure
Me: I'm not letting you see my dick till I see that little coochie that you won't be hiding from me much longer
Girl: No I just bought this phone Tuesday. I lost my phone that night honey
Me: Go into the bathroom, take a pic and send it.
Girl: Really wow? I'm In a car right now with my girls lol
Me – 1 min later: Well then I think you need to let them know you got to pull over real quick to use the restroom (So here I know I wasn't being realistic but I HAD to continue the dominance theme, not just because it was the right move but because I was FEELING it.)
Girl – 9 mins later: Pff no it can wait… It's cool
Me – 3 mins later: Are you sure about that
(Somewhere in here she sends me a pic of her huge lovely knockers.)
Me – 2 hrs 2 mins later: Gawdamn. Wish I had this earlier, I already came thinking about you when I was in the shower (It IS ok to bring this stuff up if you've hit that point with a girl)
Me: I want to stick my dick right in between those (Sorry for blatant vulgarity, but this IS real life. lol)
Girl: Ok now your turn
Me – 1 min later: I already showed you my chest. 😉
Girl: What? Lol
Me: Alright I'll go first 😉
Girl – 1 min later: K
Me – 4 mins later: I really want to suck on your tits. Then fuck you (I save the overt sexuality for when it's appropriate)
Me – 20 mins later: You know what I want. Send it
(I send a dick pic lol)
Girl – 1 min later: Oh yum I wanna ride that shit until your toes curl 😉
Me – 8 mins later: Yeah I may have to have you ride my face too.
Me – 1 hr 25 mins later: Babe send more
(She sends me like 4, several hours later)
Me – 17 hrs 24 mins later: Looks like it's laundry day huh? :p
Girl: No lol that was yesterday at some girls house
Me – 1 min later: It's laundry day for me tho lol
Me: I need socks!
Me – 11 mins later: Rainbow bright lol
Girl: Yup lol
Me – 4 mins later: I'm probably going to hurt you with my cock a little bit when I see you. Just a little, don't worry we can still be friends afterwards. But yeah, I'm going to be a bit rude with your lil body
Me: Don't worry you'll like it
Me – 1 min later: Going to pin you down and slide it inside you while you moan and wiggle around
Girl – 2 mins later: Oh really? Tell me more…
Me – 8 mins later: Send me more pics they give me.. ideas. Lol
Me: You would probably make my dick stay hard for at least two hours
Me: We need to test this theory
Me – 5 hrs 33 mins later: I would not be able to keep my hands off your legs (More sensual here. Sex is not just about penetration, it's the entire experience that makes it so amazing)
Girl – 17 mins later: You like em?
Me – 7 mins later: Maybe just a little 🙂
Me: Send me a pic in your panties
Girl – 1 min later: I'm not wearing any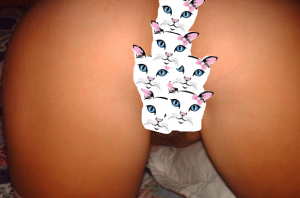 (her bent over naked from behind. Gawdamn.)
Me – 19 mins later: That's a cute little pussy I may have to spank you for being so bad and not wearing panties
Me: I may have to fuck you from behind for a while too
Girl: It's good to be bad sometimes 😉
Outro:
First and foremost before you even begin to think about how to start sexting with a girl you MUST make a girl feel safe and comfortable sending you risque pics. Most guys assume this is putting on some sort of "I want to be your boyfriend" act, OR, promising her you won't share the pics. BOTH of these are seriously wrong and even attempting them will make you lose a lot of ground with a girl. You also want to be persistent. It's clear from reading the text convo above that this girl was "take it or leave it" at first, it wasn't until I stuck around a bit before she started massively warming up to me.
Fill out the coaching form to get personal one on one training with me!
how to get naked pics
|
how to get nude pics from girl
|
how to sext
|
pua text game
|
sexting tips